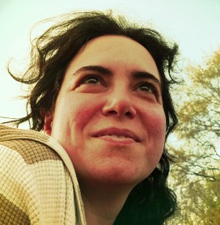 Christina Lazaridi is an Academy Award-Oscar® nominated screenwriter and expert in dynamic story design. Projects she has authored or actively developed have won awards at the Cannes, Berlin, Oberhausen, Sarajevo, Sundance and SXSW film festivals, as well as the Mexican Ariel Awards, among many others. Her most recent feature film, Nobody's Watching (co-written with director Julia Solomonoff), premiered at the 2017 Tribeca Film Festival, where it won the top acting award. Nobody's Watching was released internationally to wide critical claim and was a New York Times critics' pick. It was nominated in six categories for the 2018 Silver Condor Awards in Argentina, winning the Silver Condor Award for Best Original Screenplay.
Christina was born in Greece, where she grew up in the theater, surrounded by a household of politicians, refugees and powerful performers. Her work focuses on high emotional impact narratives of dislocation and survival and her performance-centered screenplays have consistently attracted major collaborators both domestically and abroad. Her first feature film, Coming Up Roses (co-written with director Lisa Albright), starred Broadway icon Bernadette Peters. Her historical feature documentary Varian and Putzi: A 20th Century Tale, directed by Academy Award-Oscar® winner Richard Kaplan, was released theatrically at the Museum of Modern Art in New York. In 2017, Christina's first produced screenplay in Greece, Rosa of Smyrna, was a box office sensation surpassing all international sales, and her most recent feature script, Murina (co-written with director Antoneta Kusijanović), will be co-produced by Martin Scorsese's Sikelia Prods and RT Features in 2019.
In 2008, Christina joined the faculty at Princeton University, where she created and now runs the thriving screenwriting curriculum and screenwriting track for Princeton's Creative Writing Program. Christina has also been part of the faculty at Columbia University's Graduate Film Division for over a decade and has extensively mentored international filmmakers through affiliations with major film festivals, writing programs and production companies. After years of analysis and fascination with global storytelling practices and audience response, Christina recently partnered with Princeton's Neuroscience Institute and Uri Hasson's Lab to investigate the representation of storytelling principles in the human brain. Their collaborative research has received the esteemed Magic Grant from Princeton University's Humanities Council and their initial findings on the dynamic representation of storytelling in the human brain will be released in 2019.
In addition to her position as Academic Director of Cine Qua Non Lab, Christina currently holds the positions of Director of Studies and Senior Mentor at the Mediterranean Film Institute. Christina has written three books on screenwriting methodology —Stories that Change: A Diagnostic Manual for Troubleshooting Your Screenplay, and Case Studies of Screenplays in Motion (Parts I & II)—, commissioned and published by the Mediterranean Film Institute and the European Union's Creative Europe Program.
Christina is a Co-Founder of Cine Qua Non Lab and a member of the Executive Board.